Samples of our custom Attorney Apps
My Attorney App by Law Offices of Jason Turchin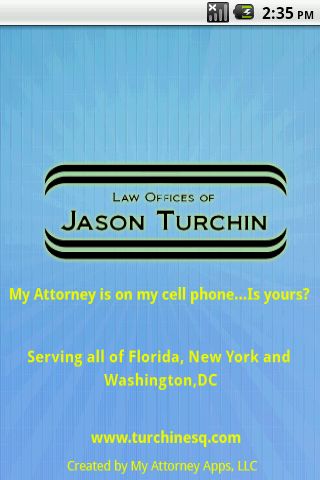 This was the App that started it all. After submitting his patent application to develop mobile phone apps for lawyers in 2009, the My Attorney App was launched in December 2009. A major update was completed recently which includes a fully bilingual app that changes from English to Spanish and Spanish to English with the push of a button. A Text Us Now feature was also developed which allows a potential client to text his office with a simple button push.

800-Cantaso App by Ferro, Kuba
This app was the first bilingual app developed for any attorney. The 800-Cantaso app integrates the firm's social media channels into one easy to use app for their clients and prospective clients to use. With their YouTube channel, Twitter feed and up-to-date Cantaso Facebook fan bage, clients can always see the current news of the firm.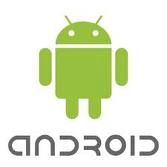 Oklahoma Injury Lawyers App by the Nix Law Group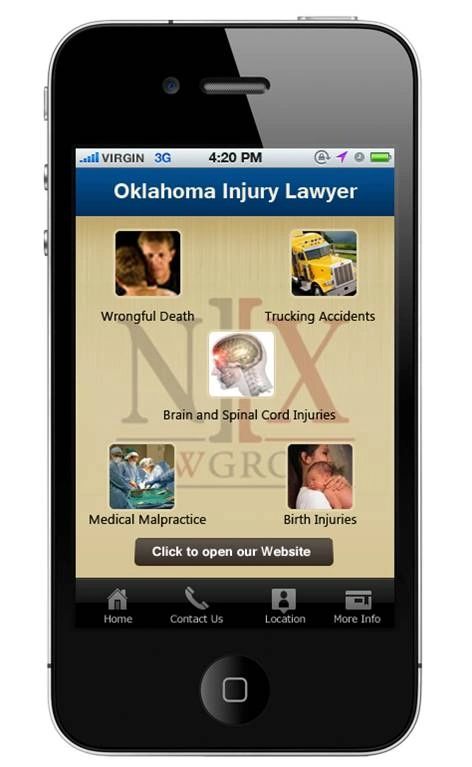 The Nix Law Group's app focuses on branding their firm's main practice areas and providing their clients with a simple to use contact area and Accident Help Kit. The Help Kit enables clients to record accident information and submit it to the law firm with the push of a button.

My Estate Planning Attorney by Barry Haimo, Esq.
Florida Estate Planning Lawyer Barry Haimo wanted something simple for his clients so they could have an easier way of finding and contacting him over the years. Now, his clients have a "permanent, mobile business card" with all of Mr. Haimo's contact information in App form. Mr. Haimo also provides useful tips on business development and estate planning for his clients and prospective clients.










Injury Law Center App by the Law Offices of Anthony Mancini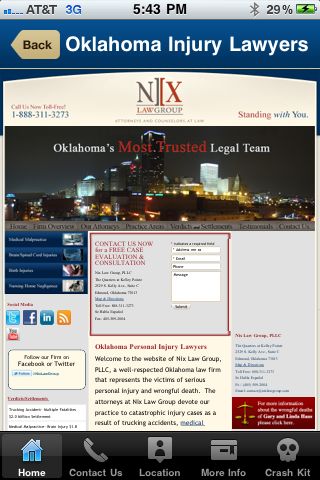 The Law Offices of Anthony Mancini's app integrates the firm's practice areas, an Accident Help Kit, and a simple Contact area for prospective clients to call, email, or text his office with the push of a button. The app contains useful legal tips for his clients and more information about his practice.

Florida Injury & Accident Lawyers App
The Florida Injury & Accident Lawyers App from Florida Bar Compliant has great information for prospective clients. The app contains free legal tips, an Accident Tool Kit, information about the company, and is fully bilingual, with an English to Spanish conversion with the push of a button.

I Need A Lawyer App by Neufeld, Kleinberg and Pinkiert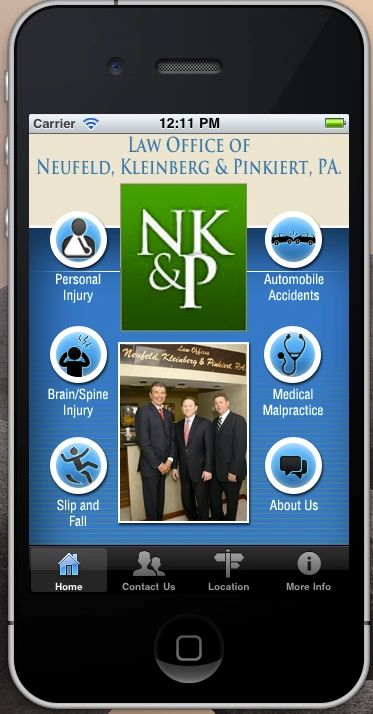 Miami Attorneys at Neufeld, Kleinberg and Pinkiert's app acts as a mobile business card with practice area descriptions, contact information and free legal tips. Their app is simple, yet straight forward and allows clients and prospective clients to have constant communication lines open with the office in case they ever need legal assistance.

Florida Worker's Compensation by Lyle Masnikoff, Esq.


Lyle Masnikoff's app integrates his practice area and office locations into an easy to use app for clients and prospective clients.



9. Social Networking (Facebook, Blogging, Twitter, YouTube Channel)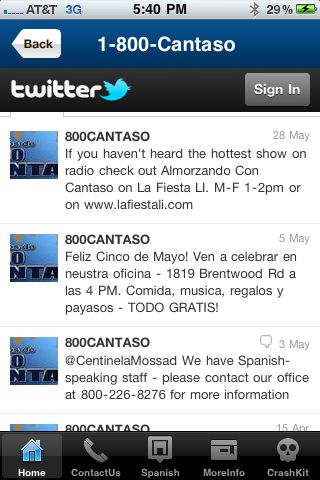 Do you have a Facebook Fan Page, Twitter Account, Blog or even a YouTube Channel? We can build a direct feed into your Attorney App to provide users with current, up-to-date content about your firm.

10. Bilingual or Trilingual Apps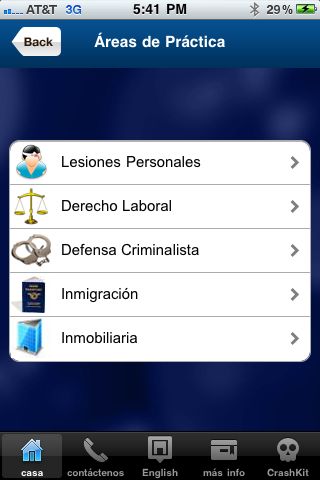 If your client base speaks Spanish, French, Creole or any other language, we can create a fully bilingual or trilingual app which will change languages with the push of a button.

11. Custom Contact Section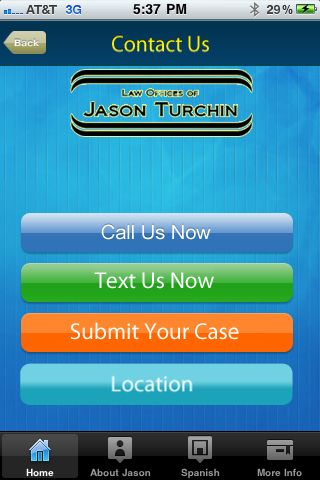 Now clients and prospective clients can contact you right through your app. This section can include push-button calling, texting directly with your office, case submission forms, location listings, and anything else you can think of. Clients no longer have to remember long phone numbers, confusing website addresses or even the spelling of the law firm's name. Once downloaded, clients will have quick, easy and direct access to your firm.
12. Custom Practice Area Kits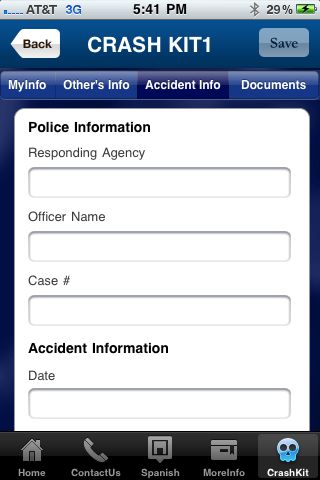 Practice area kits allow clients to store case information, add case information, and email case information directly to your office with the push of a button. They can be customized for any practice area, including car accidents, slip and fall cases, criminal defense, labor law, worker's comp, bankruptcy, disability, divorce and any other practice area.

My Attorney Apps

(888) 952-9277
sales@myattorneyapps.com