Attorney App features
Here are just a few of the screenshots of Attorney Apps we created to give you examples how we can customize your own law firm app, for both client acquisition and client retention:
1. Checklists or FAQs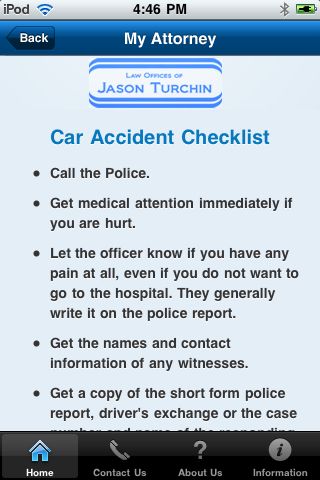 You can build checklists or Frequently Asked Questions (FAQs) into your App for nearly any practice area as a great reference tool for clients and potential clients. The checklists can be hard-coded into the App so they are always on the client's phone even when cell phone reception is lost. A phone calling option is also available which can enable to client to call the law firm directly from the Checklist page
2. Push-button calling feature
We help make it simple for your clients and potential clients to get a hold of you. No more searching through their contacts or business cards for your information. We can integrate this direct calling feature into the App so clients can simply push a button to call your office.
3. Existing Clients Section
The existing client feature can be built into your App, customized for any specific practice area. The App has the ability to allow information to be stored within the App, like case information, witness information, and doctor information (for disability or personal injury-type cases, for example). Your App can also include the ability for clients to take and submit photographs directly through your App. This is useful for personal injury clients, for example, who are sending recent scar photos or injury photos to the attorney, disability clients who want to keep track of their case information, bankruptcy clients who want to store important case information, criminal defense clients, etc.
4. Flash Intro with your Logo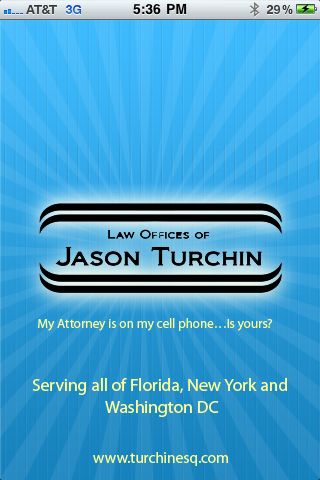 Our Attorney Apps can include an introduction screen which gives a nice, professional feel before the main screen appears. This screen can be customized with your own information - photographs, practice area types, your phone #, firm name or logo, website, etc.













5. Website integration within your App
Your Attorney App can include integration of your Website directly within the App for users to get even more information about your firm.
6. Location listings with map integration and navigation integration
Whether you have one or several locations, we can list your locations and create separate screens for each location. Your App can simply state your office location, or you can have the location show up on a Map or even have a Navigation feature added which allows users to get directions to your office.
7. Verdicts and Settlements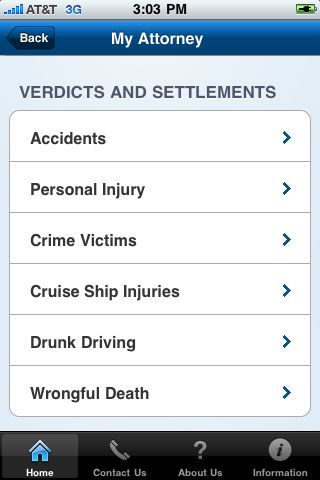 Verdicts and settlements are a great way to show clients and potential clients some examples of your experience. We can also customize a disclaimer if your state restricts certain information without a disclosure statement; i.e. Not all results are provided. Prior results do not guarantee future outcomes.
8. About Your Firm
Create a screen with information about your firm. You can also add screens for each attorney customized with a photograph, biography and even an email or phone button for direct contact with a specific attorney.
9. Social Networking (Facebook, Blogging, Twitter, YouTube Channel)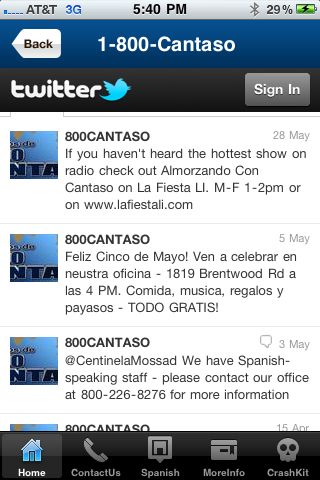 Do you have a Facebook Fan Page, Twitter Account, Blog or even a YouTube Channel? We can build a direct feed into your Attorney App to provide users with current, up-to-date content about your firm.
10. Bilingual or Trilingual Apps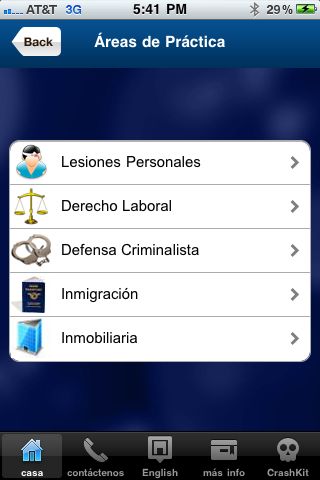 If your client base speaks Spanish, French, Creole or any other language, we can create a fully bilingual or trilingual app which will change languages with the push of a button.
11. Custom Contact Section
Now clients and prospective clients can contact you right through your app. This section can include push-button calling, texting directly with your office, case submission forms, location listings, and anything else you can think of. Clients no longer have to remember long phone numbers, confusing website addresses or even the spelling of the law firm's name. Once downloaded, clients will have quick, easy and direct access to your firm.
12. Custom Practice Area Kits
Practice area kits allow clients to store case information, add case information, and email case information directly to your office with the push of a button. They can be customized for any practice area, including car accidents, slip and fall cases, criminal defense, labor law, worker's comp, bankruptcy, disability, divorce and any other practice area.

My Attorney Apps

(888) 952-9277
sales@myattorneyapps.com